Architectural & Real Estate Photography
Our team of photographers have many years of experience providing professional photography for real estate agents and property managers as well as national builders and architects. We understand every home is different and so are the marketing needs of our clients. We offer a solution to suit all marketing styles.
Our professional photography services include:
Day photography
Drone and aerial photography
Portrait and corporate headshots
Twilight photography
Lifestyle photography
Drone & Aerial Photography
Our team is licenced and fully insured to operate unmanned aircrafts, with years of experience.
We also offer aerial photography from helicopter or fixed wing aircrafts for larger areas of coverage or where a much greater altitude is required.
Twilight Photography
Twilight, or dusk photography can give a property that wow factor. The softer lighting at that time of day, coupled with the saturated colours in the sky and the unique mood for the property creates emotion and builds excitement. It also adds a touch of style and gives the impression of a property being more prestige.
Twilight photography is a premium service as it requires more attention and skill. There is a very short window of time to execute the job and get it right. Twilight photos are done around the time the sun sets, so you can only do one per night. It's important to get the timing just right or you miss your opportunity.
Floor Plan Sketching & Rendering
All our talented photographers are skilled floor plan sketchers and artists, so you only need to book the one person to do all your photography and floor plans.
Our floor plans are sketched on site at the same time we do the photographs, and all rendered in beautiful graphics to suit your branding. We also offer stand alone floor plan sketching and rendering if that's all you need.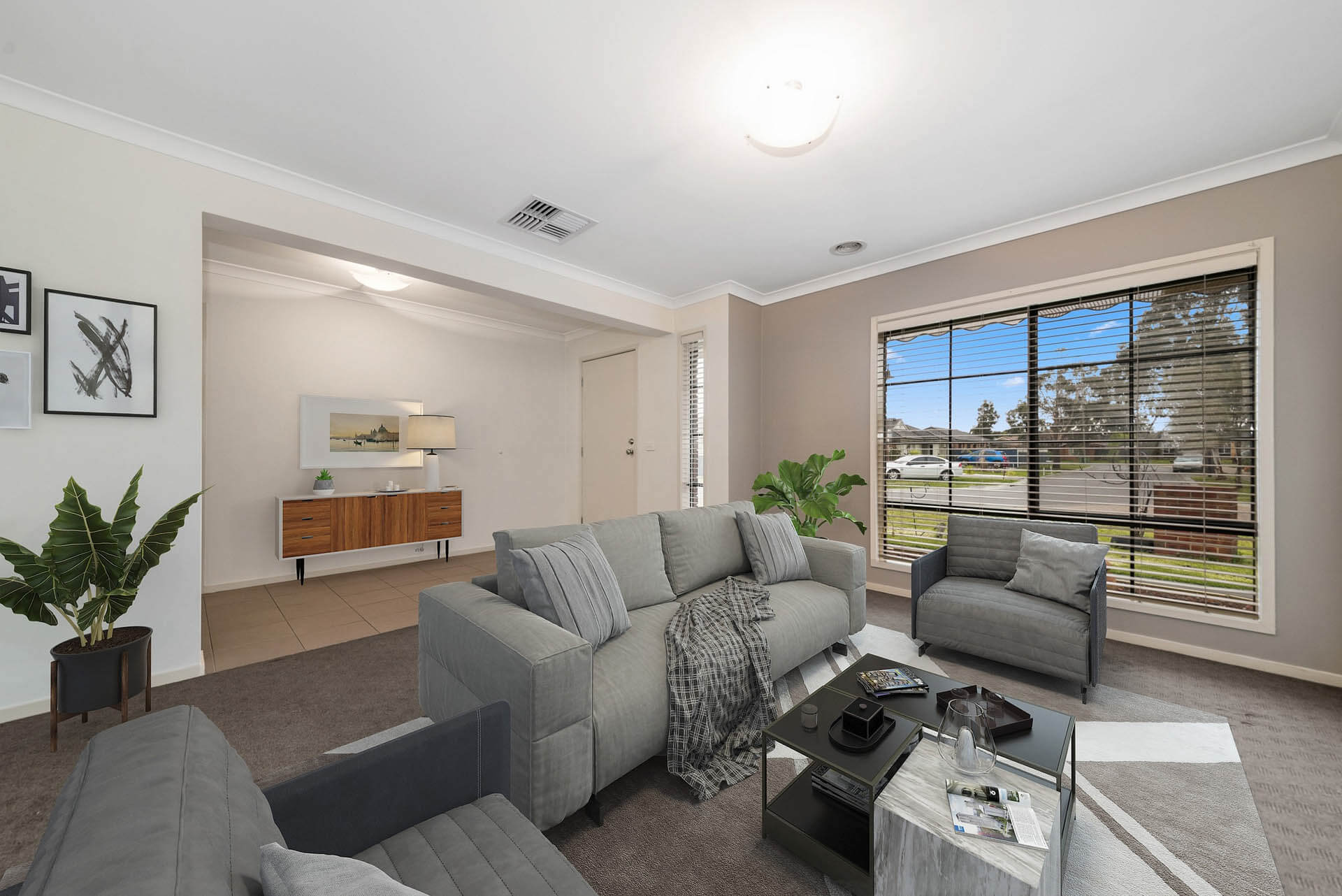 Virtual Furniture
Virtual Furniture is the addition of CGI furniture to real photos of empty or cluttered rooms.
Using advanced editing and 3D software, we transform the real photos by adding sophisticated, life-like computer generated furniture into the empty space. The angles and lighting are matched to make the furniture look like it's really in the space. The result is so realistic it's very hard to pick the difference.
Some of the benefits of using virtual furniture include:
Drastically increased visual appeal
Significant increased interest in the property
Generates more open home viewings
Improves your brand and marketing appeal
Save thousands compared to real home-styling
Day to Dusk Conversion
Day to Dusk conversions are designed to draw the viewer's attention when scrolling through online listings.
The moody feel and vibrant colours from the simulated twilight photos are proven to attract more buyers to listings than regular day time photos.
Digital Decluttering
Not enough time to clean up the property?
Sometimes having things moved is not an option prior to having the photos taken. We can digitally declutter and remove old furniture from photos to either make the space appear empty, or we can then add virtual furniture to help with the visual appeal of the property.
Videography
Stay ahead of your competition with a cutting-edge video production to market your property.
Our team of creative experts are here to bring your properties to life. Let us craft an image that offers engaging and emotive content for your marketing needs using the highest quality HD digital technology, stabilization tools and exciting editing techniques.